Pizza Slice Iron On Patch: The Facts + The Making Video
Posted by BRADLEY GRAVETT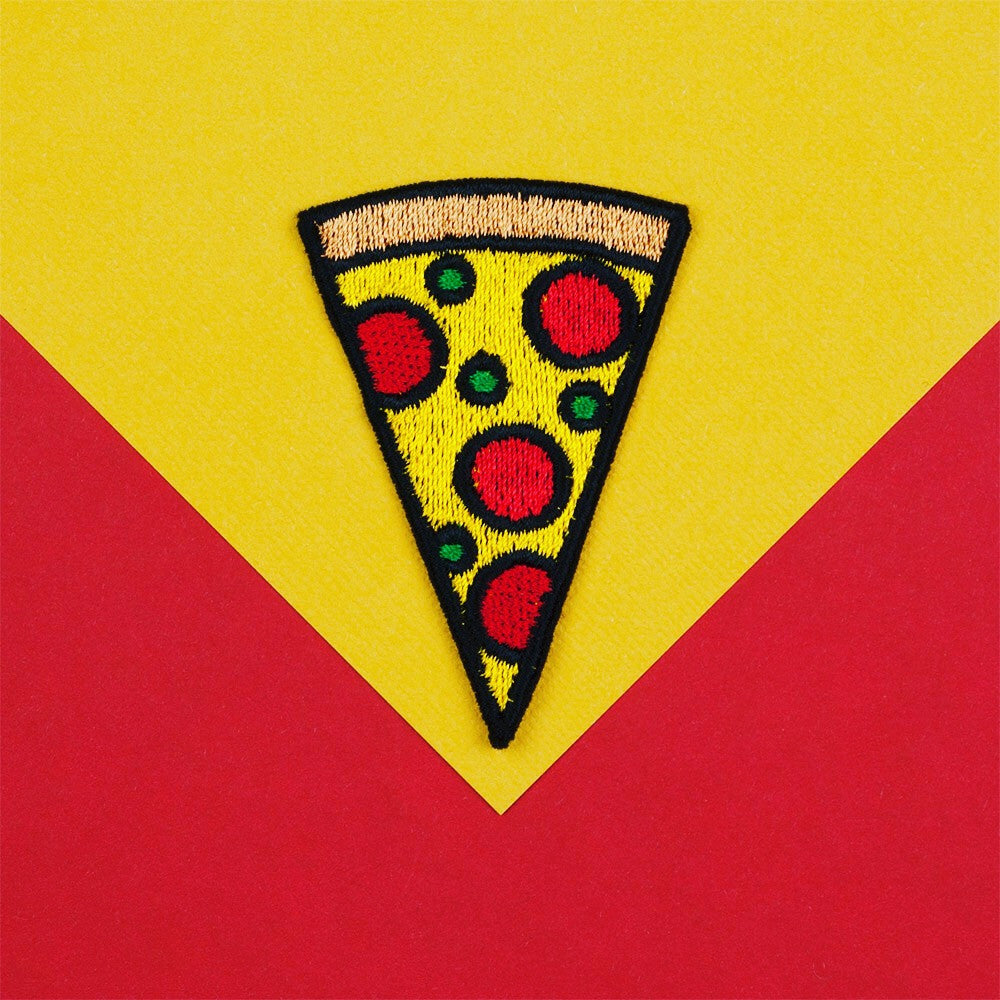 The Pizza Slice Patch:
This patch is based on a flat 'icon' style drawing of a slice of pepperoni pizza. The Pizza Slice iron on patch is sized approximately 6.2cm high x 4.5cm wide, is fully embroidered, features an easy to use iron-on backing and is designed, manufactured and shipped by Hatty Hats Embroidery in the United Kingdom.
The colours used:
A total of 5 different colours make up the Pizza Slice iron on patch, these colours consist of; yellow, red, green, light brown and black. The colour most used in this patch is the yellow for the main shape of the pizza slice. The red and green are used for the pepperoni and vegetable toppings, the light brown is used for the crust and the black finishes the patch off with all it's edges and outlines.
The stitch count:
(Total number of times the embroidery needle moves up & down.)
The Pizza Slice iron on patch has a total of 6570 stitches, uses 80 foot of thread and takes our embroidery machines roughly around 11 minutes to produce. Check out the video below to see this patch being made, see if you can count the stitches ;-).
The cool facts:
The largest pizza to ever be made was 1261.65 square meters.
The longest pizza delivery was from Cape Town, South Africa to Sydney, Australia.

🍕✈️

It's thought that roughly 400 slices of pizza are eaten every second...

😯
The making video:
To keep this design tidy all the colours are blocked together and laid from the lowest to the highest. 
Our embroidery machine starts with the yellow thread and lays the main triangular shape of the pizza slice design. 
The machine then switches to the light brown thread and lays the crust on the outside of the slice. 
Next the thread is switched to the red and the pepperoni pieces are laid. 
The green thread is then chosen and the vegetable toppings are laid. 
Finally the black thread is selected and laid on the edges and outlines of the Pizza Slice patch.
🔥🔥🔥🔥🔥🔥
Use coupon code: SAVE15 at checkout to save 15% on your first order!
🔥🔥🔥🔥🔥🔥
Buy Now