How to Order Custom Embroidered Hats: The Simple Guide + 10% off Your first order! 🔥
Posted by BRADLEY GRAVETT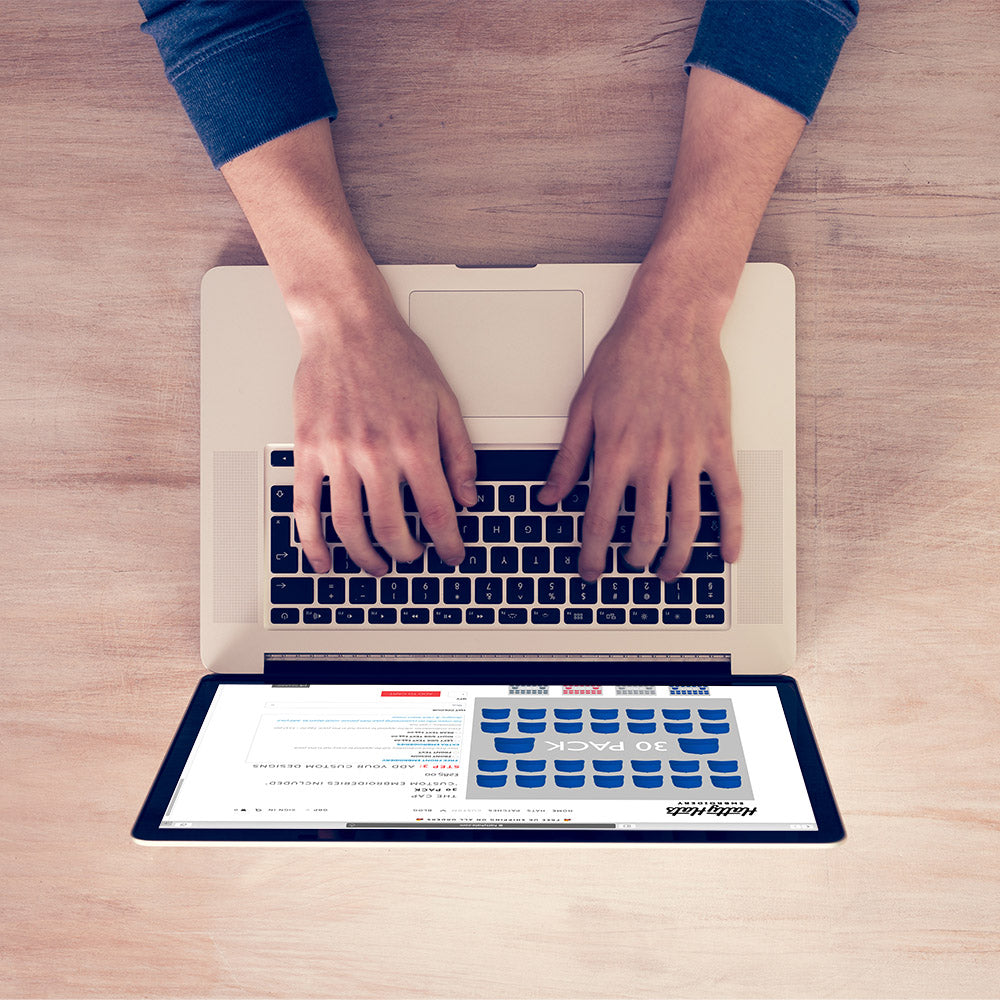 Custom Embroidered Hats - Simple!
Custom embroidered hats; you've probably been scouring the net trying to find answers, trying to translate all the confusing and complicated jargon, trying to find the right hat, trying to decided where to put your logo, and ughhh where do you even start? -- So why, oh why does almost every embroidery company make this process so unbearably and unnecessary complex!

Well, not anymore because Hatty Hats Embroidery have built an ordering system thats so simple and so fast we reckon you can order your custom embroidered hats faster than you can read this article -- well if you're a slow reader that is ;-).

Anyway -- below I am going to show you how you can order your custom hats from Hatty Hats Embroidery in four super, super, super, super easy and simple steps. So, without further ado:
STEP 1 - Choose your hat style:
We've kept things simple and easy -- You've got 4 different hat styles to choose from, a baseball cap, a beanie, a snapback and a rollup beanie that we have rigorously tested for durability, fit, affordability and finished embroidery quality. This means that no longer do you have to crawl through hundreds of product variations to find the right one because we've done all the hard work for you. Now you can choose your hat style quickly and easily with total confidence at Hatty Hats Embroidery.
STEP 2 - Choose a pack size:
Affordable without buying bulk! -- As of now you no longer need to purchase massive quantities of product to stay within budget because Hatty Hats Embroidery has done it for you. We've cut out the middle man and purchased our hats directly from the manufacture in large quantities at a heavily discounted price, then passed these savings on to you.

So, you've got 3 different hat packs to choose from; a single hat pack at £25 per hat, a 10 hat pack at £13.50 per hat or a 30 hat pack at £9.50 per hat. There are NO hidden fees, what you see is what you pay and remember every hat comes with express production and a custom front embroidery free of charge.
STEP 3 - Add your designs (logo & text):
Okay, the customising bit -- adding your logo, design & text has never been easier. We've spent ages, and I really mean ages making our customising tool super simple and easy to use!

Once you've chosen your hat style and pack size you'll be navigated to its product page where you can then add your customisations with ease, with our online editing tool.

Included with every hat is a free front design or text embroidery, however for an additional cost you can also add extra text embroideries to your hats. Extra embroideries can be applied to all or any of the following; the left side, the right side and the rear of your hats. For more information on customising you hats please visit the your chosen hat pack product page, scroll to 'add your designs' and click 'learn more'.
STEP 4 - Complete your order:
We're almost done, I promise!

Okay, so you've chosen your hat style and applied you embroideries -- below the editor you then need to decide the colour you would like your hats and how many hat packs you need. All embroideries you've added in the customiser will be applied to each additional hat pack ordered. Front embroideries of cause will continue to be free and any extra embroideries will be charged accordingly per hat pack.

Once all this is selected you then need to click 'add to cart' and navigate to 'checkout'. Once in checkout you can then choose your shipping method -- you've got three shipping options to choose from; free standard UK shipping (a 2 - 3 working day service), express UK shipping (a next working day service) and a range of international shipping options, please click here to find out more.

The shipping method you choose relates only to the amount of time it takes for your order to get to you ONCE dispatched from our UK factory, and has nothing to do with the production time of your order.

Which moves me on to my final point, every custom order no matter how big, or small with Hatty Hats Embroidery qualifies for express production. This means the moment you completed your order we're on it! Orders are usually completed and dispatched within 24 hours, however sometimes it can take a little longer for us to get things right, so we ask for between 1 - 3 working days to complete and dispatch custom orders. Once your order has been dispatched you'll receive a dispatch notification by email.
…And thats really all there is to it:  its super easy, super fast and super affordable!
🔥🔥🔥🔥🔥🔥
Use coupon code: CUSTOMSAVE10 at checkout to save 10% on your first custom hat order!
🔥🔥🔥🔥🔥🔥
👇👇👇GET STARTED NOW👇👇👇